If you visit our office on Friday, you may notice that we're making a bit of a fashion statement.
These are "Jeans Days" at Chapel Hill OBGYN, and it has nothing to do with casual Friday.
Blue Jean Friday is a continuous fundraiser we've created to help support the fight against breast cancer. 
Any member of our staff who wants to wear blue jeans to work on Fridays makes financial contributions to local organizations for breast cancer awareness and research.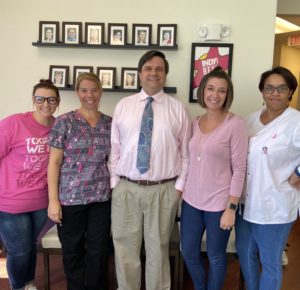 "We implemented Blue Jean Fridays four years ago," said Dr. Martinelli. "Our staff has wholeheartedly supported our venture. We do this to not only help find a cure but to also honor those we know and love who have faced this disease."
While Breast Cancer Awareness Month is October, you'll notice that our blue jean fundraising efforts continue throughout the year.
We want all our patients to know and understand how important breast health is, and how you can detect breast cancer early when it is more treatable and beatable.
The keys to early detection are breast self-exams, clinical breast exams and regular mammograms.
How to Do a Breast Self-Exam
The ideal time to conduct your breast exam is three to five days after your period starts.
Why?
Typically this is the time of month when your breasts are not as lumpy or tender.
If you don't have a period due to menopause, then you should also make sure your exam is done on the same day of the month.
Many women have lumpy breasts, and it's important to get a feel and understanding of what your breast feels like. This will help you detect any abnormalities or problems.
Any time you feel something that is out of the ordinary, we want you to contact us. We can schedule an appointment  that same week.
We know finding a lump is frightening, and we don't want you to have a long wait for an appointment. 
We suggest you conduct your exams by lying on your back because this makes it easier to thoroughly examine all breast tissue. With one hand behind your head, use the middle fingers of your other hand to firmly, yet gently use small motions to examine your entire breast.
We suggest you use either an up and down motion, a circular motion or a pattern that exams your breast from the outside toward the nipple.
Switch sides and repeat the process to examine the other breast. Make sure you are completely covering all the breast tissue. 
Things You May Not Know About Breast Self-Exams
Check under your arms
Did you know that you should also feel your armpits when doing self-exams?
Some breast tissue goes into that area, so don't leave it out when you're feeling for lumps.
Examine your nipples as well as your breasts
You should also carefully look at your nipples when performing an exam. Gently squeeze them to make sure there is no discharge, and be sure to contact us if your nipples are turning inward.
These can be signs of breast cancer. 
Don't overlook skin texture
Do you evaluate your skin texture during your self-exams? Please let us know if you see signs such as:
Puckering

Indentations

Any skin texture changes

Dimpling

Any part on your skin that looks like an orange peel
Evaluate the shape of your breasts
Do you check the shape or outline of each breast? Be sure to note any changes.
It's not unusual to have asymmetrical breasts, but in some cases, it could indicate a problem. If you have questions about the shape of your breasts, please ask us! 
Breast Health Services in Chapel Hill
While breast self-exams are very important, every woman should also have regular clinical breast exams and mammograms.
During a clinical breast exam, we'll check your breasts for any abnormalities.
After discussing your personal and your family medical history, we'll make a recommendation for how often you should have mammograms.
The Latest Treatment in Breast Cancer
Researchers have discovered that breast cancer can be narrowed down into several different subtypes, and each of these responds differently to specific treatments.  These include:
Hormone receptor positive (HR)  breast cancers
These are most effectively treated with hormone therapies. These HR cancers contain an estrogen receptor (ER) and/or a progesterone receptor (PR). 
Human epidermal growth factor receptor 2 (HER2) positive
These cancers have excessive amounts of HER2 protein. Once it's determined if the proteins are positive or negative, tailored treatments can be crafted.
Triple-negative breast cancer 
This type of cancer does not have ER, PR or HER2. 
Ultimately, these discoveries enabled health care professionals to more specifically target the subtype of cancer with the type of treatment that will be most effective, creating new methods that are specifically aimed at these types of cancers.
In addition, the Cancer Genome Atlas (TCGA) has examined the intense molecular diversity of breast cancer, and in the future, it will be used to identify even more cancer subtypes.
At Every Stage of Your Life: We're With You on Your Journey
Whether you are having your first Pap smear or you're entering menopause, we want you to know that we're with you throughout your journey. We have helped couples who struggled with infertility and have welcomed hundreds of new lives into the world. 
Most importantly, we want you to know that we are always available to answer your questions about breast cancer and your breast health.
We want to emphasize if you notice a lump or even something that is different from how your breasts typically feel, please let us know.
Feel free to start your own blue jean Friday at your workplace. We're in this fight against breast cancer together. You are never alone. 
For more than 40 years, Chapel Hill OBGYN has served women in the Triangle area, sharing the joy of little miracles and supporting them during challenges. Our board-certified physicians and certified nurse midwives bring together the personal experience and convenience of a private practice with the state-of-the-art resources found at larger organizations. To schedule an appointment, please contact us for more information.
---
Sources:
National Cancer Institute. "Advances in Breast Cancer Research." Online.
U.S. National Library of Medicine. "Breast Self-Exams." Online.